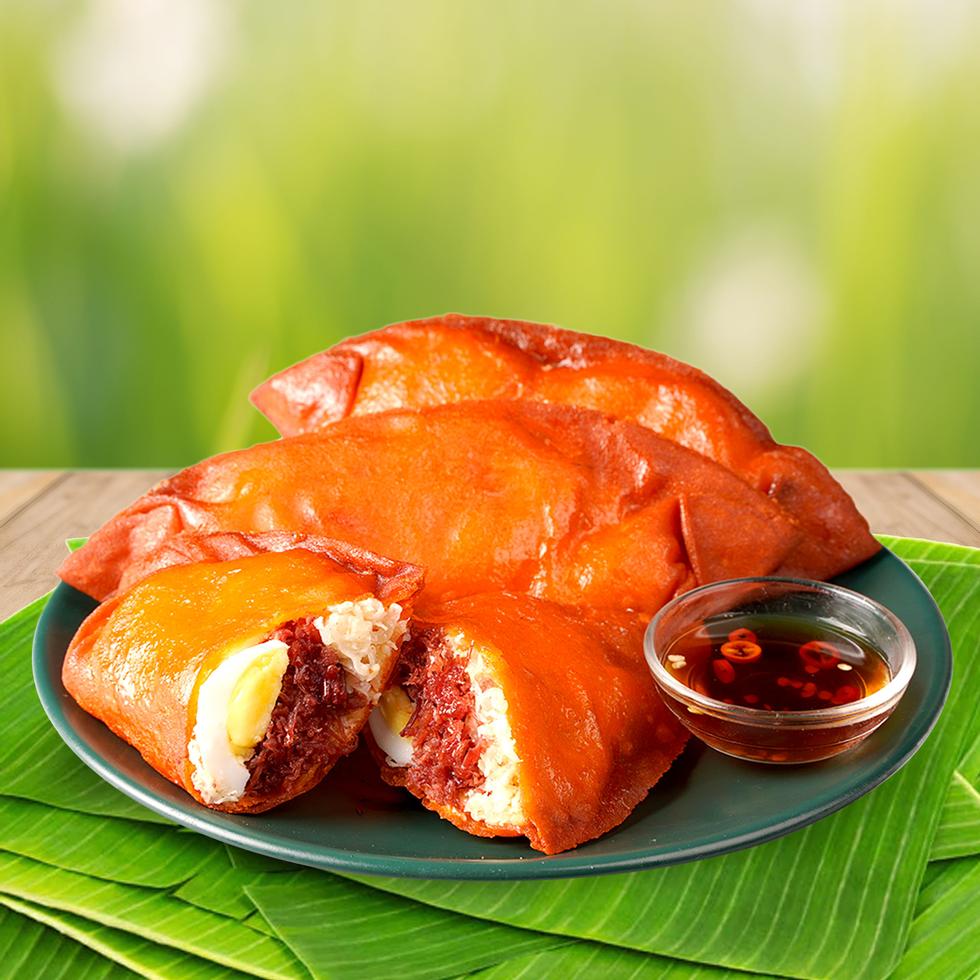 ARGENTINA CORNED BEEF ILOCOS EMPANADA
Preparation Time
30 mins (prepare dough ingredients and filling ingredients)
Recipe
Ingredients:
2 cans ARGENTINA CORNED BEEF 175G
1 tbsp LI TROPICAL PALM OIL PET 250ML
1 whole bulb PG Garlic, peeled and minced
1 medium PG onion, peeled and diced
4 pcs RICH AUTHENTIC VIGAN LONGGANISA 400G
2 tbsp DATU PUTI VINEGAR 200ML
1 tsp PURE BASICS IODIZED SALT 500G
1/2 tsp PURE BASICS BLACK PEPPER POWDER 30G
DOUGH: 2 cups BROOKIE FARMS GLUTINOUS RICE FLOUR 500G
3/4 cups CREAM ALL PURPOSE FLOUR 200G
2 tbsp PURE BASICS ATSUETE WHOLE 30G
3/4 cup water
3/4 cup LI FRAISWELL VEGETABLE OIL PET 250ML
1 tsp PURE BASICS IODIZED SALT 500G
ASSEMBLY AND FRYING:
ARGENTINA CORNED BEEF 175G
1 small PG FRESH PAPAYA GREEN, grated
8 small EQUAL FRESH EGG M6S (NORSTAR)
2-3 cups LI TROPICAL PALM OIL PET 250ML
Optional: 1 cup DATU PUTI VINEGAR 200ML

Preparation:
1. MAKE A DOUGH:
2. Combine all ingredients in a large bowl, Brookie glutinous rice, Cream All Purpose Flour, Pure Basics atsuete, warm water, Ll Fraiswell Vegetable Oil and Pure Basics iodized salt.
3. Transfer to a clean, smooth surface and knead until smooth and not crumbly. Rest at room temperature for 30 mins.
4. FILLING:
5. In a pan, put Ll tropical palm oil and saute PG garlic and PG onion until aromatic. Add the Vigan longganisa and crumble while cooking until browned then add the Argentina Corned Beef and Datu puti vinegar. Simmer until dry then set aside to cool.
6. ASSEMBLY AND FRYING:
7. Heat LI Tropical Palm oil in a large wok or pan, deep enough to fry a whole empanada in it.
8. Meanwhile, cut empanada dough into 8 portions. Place one portion in an oiled parchment or baking paper, about 8x11 inches. With a rolling pin, roll out dough to form an oval-shaped sheet, until about ¼-inch thick.
9. Place 2 tablespoons each with grated papaya and corned beef filling on the dough, forming a well at the center. Crack one egg in the middle then carefully fold over, pinch and trim edges with a small plate to seal. Carefully slide the empanada into the hot oil and fry until golden. Repeat steps with the remaining dough and filling.
10. Serve warm with sukang Ilocos.

Buy Ingredients