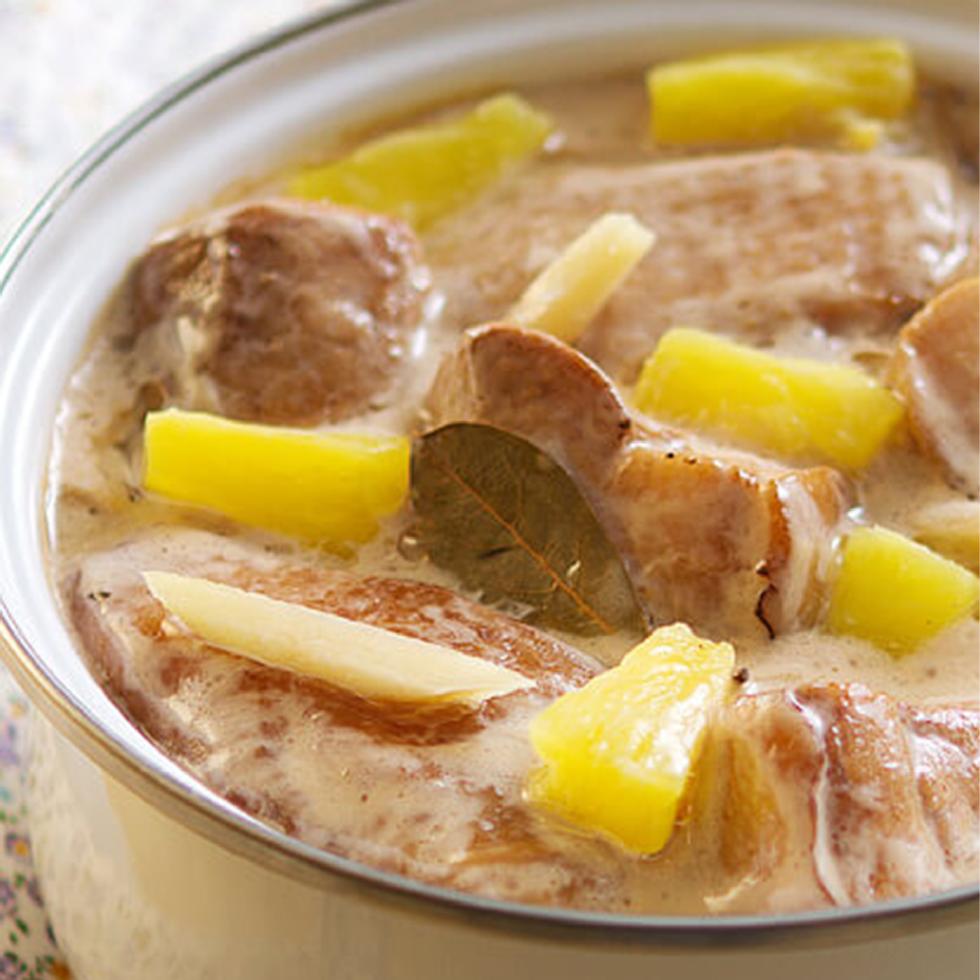 DEL MONTE QUICK 'N EASY ADOBO SA GATA
Recipe
Ingredients:
1/4 Kg MAGNOLIA Chicken adobo cut
1/4 Kg FRESH Pork belly, cut up
1/8 cup DEL MONTE Cane Vinegar pint
1 can DEL MONTE Pineapple tidbits 227g, drained & reserved syrup
1 tbsp DATU PUTI soy sauce 200ml
1/4 tsp PURE BASICS black pepper whole 30g
1/8 cup LI FRAISWELL Vegetable oil 250ml
1 pack DEL MONTE Quick 'n Easy Gata Mix 40g, dissolved in 1/2 cup water
1/8 cup PG Fresh garlic, crushed
1/4 tbsp PVM ginger, cut into strips
1 pc PURE BASICS bay leaf/laurel leaf 10g
1/4 cup PG Fresh Onion spring, sliced

Preparation:
1. In a bowl, put DEL MONTE Vinegar, DEL MONTE Pineapple syrup, DATU PUTI soy sauce, PURE BASICS black pepper & mix well then add MAGNOLIA Chicken & FRESH Pork. Marinate for 30 minutes in the refrigerator. Drain but reserve marinade.
2. In a pan, add LI FRAISWELL vegetable oil and fry meat until light brown in color. Set aside.
3. Using the same pan, sauté PG garlic, onion and PVM ginger. Add pork, marinade and PURE BASICS bay leaf. Bring to boil then simmer for 20 minutes.
4. Add chicken and DEL MONTE Pineapple Tidbits. Simmer for another 15 minutes.
5. Add DEL MONTE Quick 'n Easy Gata mixture & simmer uncovered. Stirring occasionally. Transfer to a serving platter.

Buy Ingredients