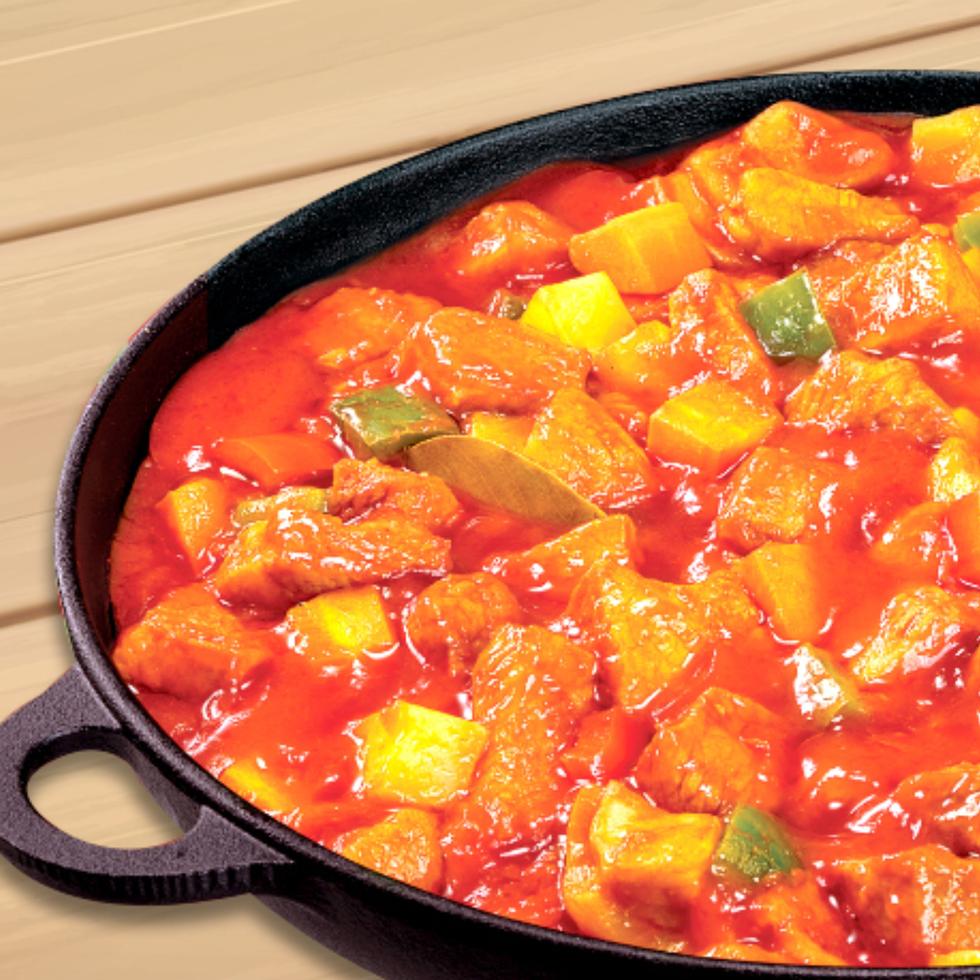 Recipe
Ingredients:
150g MONTEREY Pork Liver, cut into cubes
1 tbsp DATU PUTI Soy sauce 200ml
200g MRS. GARCIA'S Ground pork
1 pc PURE BASICS Laurel leaves 10g
1 pc PG Fresh Onion red (local), chopped
5 tbsp HUNT'S Tomato Paste 150g
1 tbsp EQUAL Brown sugar 1/4Kg
1/4 cup PG Fresh Red Bell pepper, diced
2 cups + 1 cup Water
1 tbsp LI TROPICAL Palm oil PET 250g
4 cloves BMI Fresh Garlic, chopped
1/2 cup PG Fresh Potato marble, diced
1/2 cup PG Fresh Carrots, diced
2 pcs PUREFOODS Angus Beef Franks 500g OR PUREFOODS Cheese Franks jumbo 500g, sliced into rounds
350g MRS. GARCIA'S Pork, menudo cut
2 tbsp RAM California raisins seedless 100g OR PURE BASICS California raisins 100g
Pinch PURE BASICS Black Pepper powder 30g
Pinch SILVER SWAN WOW sarap Seasoning granules 8g
Pinch PURE BASICS iodized salt 500g

Preparation:
1. In a mixing bowl, marinate MRS. GARCIA's pork and MONTEREY pork liver in DATU PUTI soy sauce and PURE BASICS laurel leaf. Cover and let it marinate for 30 minutes inside the chiller.
2. In a cooking pot, put the marinated pork with 2 cups of water. Cover and boil for 20 minutes or until meat & liver are tender.
3. Let it cool and set aside.
4. In a medium-sized wok pan, heat LI Tropical cooking oil. Saute PG Fresh onion and BMI Fresh garlic until aromatic.
5. Add in the cooked pork and liver with broth, PG potatoes, PG carrots, PUREFOODS Franks and let it simmer for 3 minutes.
6. Put HUNT'S Tomato Paste to the mixture. Add some WOW seasoning granules and EQUAL sugar.
7. Simmer in medium high heat for 15 to 20 minutes or until the potatoes and carrots are fully cooked.
8. Add PG Bell peppers and PURE BASICS raisins. Continue cooking for another 2 minutes.
9. Put PURE BASICS salt & pepper to taste then serve.

Buy Ingredients